With LianaAutomation it is now possible to send WhatsApp messages automatically. LianaAutomation enables you to automate your sales processes and WhatsApp reply messages. Read more on why to use WhatsApp together with Marketing Automation.
Onboarding
To add a WhatsApp channel to LianaAutomation Liana needs the following information from you.
After confirming your WhatsApp LianaAutomation order, please provide the following information about your company to Liana:

Company name
Company logo
Description of company
Contact information
Facebook Business Manager ID (this can be found in the Facebook Business Manager settings).

In order to speed up the approval process we recommend that you begin to think on the WhatsApp message templates already at this stage.
Liana will acquire a phone number with WhatsApp functionality attached. See the steps below for this process:

This requires your approval in Facebook Business Manager for WhatsApp to be connected.
You are required to read and accept Meta's terms and conditions and to fill in the related form.
WhatsApp templates will be provided for approval. This stage can take from a few hours to days.
The duration of the whole process of creating and approving the WhatsApp number is approximately from two to five weeks.
Please note that the WhatsApp number will be created for you as a new number.
Liana will create a new channel for WhatsApp in LianaAutomation. After the channel is created it can be found in Channels. Open the created WhatsApp channel.
WhatsApp templates
WhatsApp templates are messages that are used in WhatsApp messaging. WhatsApp checks and approves the templates before you can use them. Please note that the approval process is done by WhatsApp and can take from hours to a few days.
Read more about WhatsApp templates and things to consider regarding them.
Create a new template by clicking the plus icon.

Adding a template
Give the template a name.
Select the template language in accordance with the planned content. This language information is for WhatsApp's approval process.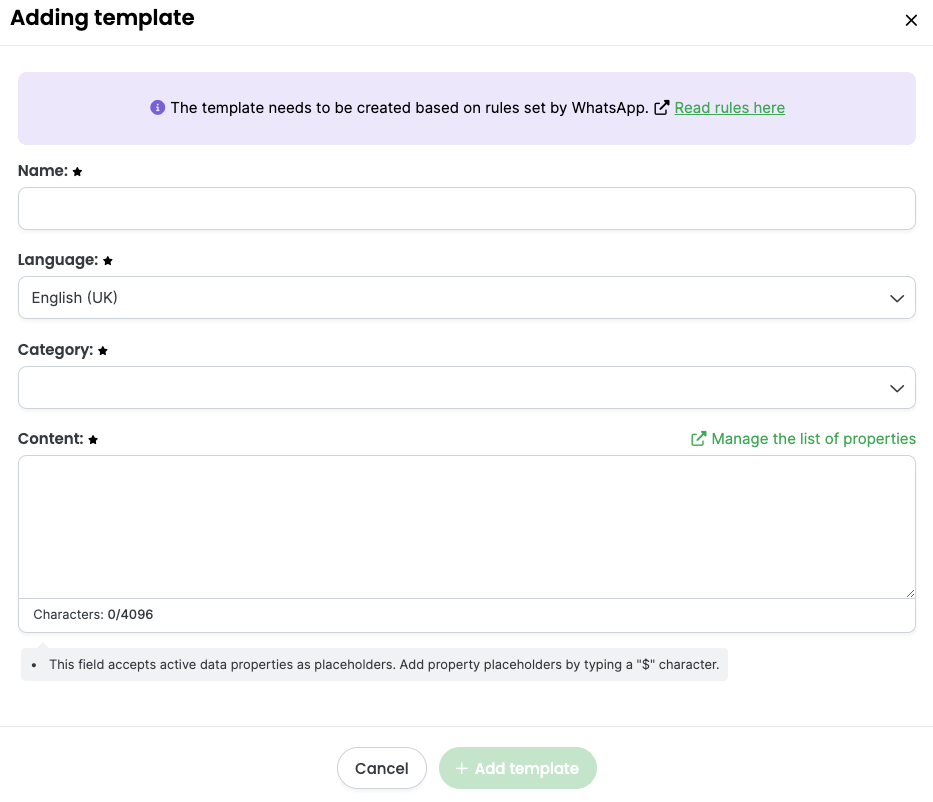 Select a suitable category from the list of ready-made categories WhatsApp has provided.

Type in the message content to the Template content field. Personalized content can be used in Content field.

Note! It is possible to use multimedia content on WhatsApp messages, but this requires the activation of the Business version.
After adding the template it will go through WhatsApp's approval process. The state of the template is displayed so you can check whether the template is approved or if it is still under approval. After the template is approved it can be used in Automations.
Common Rejection Reasons
The message template contains content that violates WhatsApp's Commerce Policy: When you offer goods or services for sale, we consider all messages and media related to your goods or services, including any descriptions, prices, fees, taxes and/or any required legal disclosures, to constitute transactions. Transactions must comply with the WhatsApp Commerce Policy.

The message template contains content that violates the WhatsApps Business Policy: Do not request sensitive identifiers from users. For example, do not ask people to share full length individual payment card numbers, financial account numbers, National Identification numbers, or other sensitive identifiers. This also includes not requesting documents from users that might contain sensitive identifiers. Requesting partial identifiers is OK.

The content contains potentially abusive or threatening content, such as threatening a customer with legal action or threatening to publicly shame them.

The message template is a duplicate of an existing template. If a template is submitted with the same wording in the body and footer of an existing template, the duplicate template will be rejected. A rejection notification that includes the rejection reason will appear in Account Quality on WhatsApp Manager and be sent via email. You may refer to the Account Quality notification to see the name and language of the existing template with the same content as the rejected duplicate template. You may also choose to edit the template and resubmit. Please note that this check does not apply to OTP (one-time password) templates.
Using WhatsApp in Automation
There are three new elements accessible in Automation.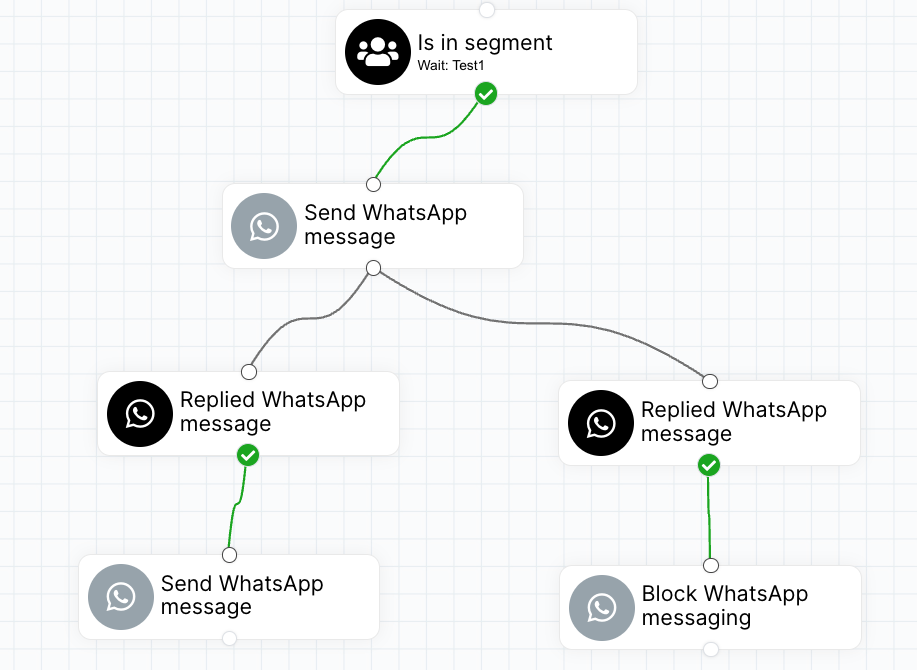 Send WhatsApp message

This sends a WhatsApp message e.g. after joining a segment.
Only WhatsApp-approved templates can be used in the first message.
Replied WhatsApp message

You can select the type of the message, e.g. Wait until the message has been responded to.
You can add a condition dictating whether the replied message should contain any or all of the words you add on the list.
If no words are added to this condition, all replies fulfill the condition and the contact moves forward in the automation regardless of the reply the contact sends.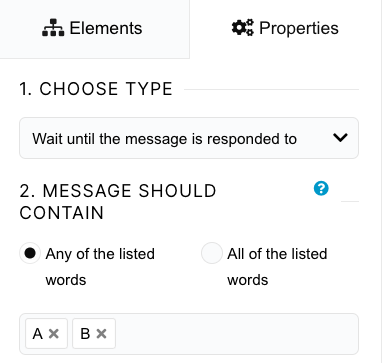 After using the Replied WhatsApp message element the Send WhatsApp message element can be used again. In the second Send WhatsApp message element you can change the message type to Custom message or use a ready-made template. You can also add media content (image or video) to a customized message. Do not break up the URL address of the video or the image.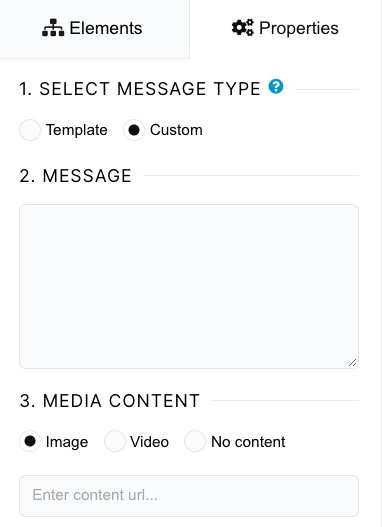 WhatsApp enables you to freely message with the recipient within 24 hours of their latest reply.
Block WhatsApp messaging

This element blocks sending WhatsApp messages with this recipient so it can be used as an opt-out.
WhatsApp Pro
Maximum size limit is 16MB. Please note that the size limit for images is only 5 MB.
Supported content types
Images: JPG, JPEG, PNG, WEBP*
Audio: MP3, OGG**, AMR, 3GP, AAC, MPEG
Documents: PDF, DOC, DOCX, PPTX, XLSX
Video: MP4 (with H.264 video codec and AAC audio), HEIC
Contacts: vCard (.vcf)
*The image/webp MIME type is only used for WhatsApp stickers, which have additional requirements.
**WhatsApp outbound OGG is only supported when the ogg file uses the opus audio codec. These files may have the .ogg or the .opus extension.

WhatsApp Business
Maximum size limit for documents is 100 MB and for audio and video files 16MB. Please note that the size limit for images is only 5 MB.
Supported content types:
Images: JPEG, PNG,
Audio: AAC, MP4, AMR, MPEG, OGG, OPUS
Documents: PLAIN, CSV, PDF, MSWORD, X-TAR, RTF.0, MS-POWERPOINT
Also:

application/vnd.openxmlformats-officedocument.presentationml.presentation,
application/vnd.openxmlformats-officedocument.wordprocessingml.document,
application/vnd.openxmlformats-officedocument.spreadsheetml.sheet,
application/vnd.oasis.opendocument.presentation,
application/vnd.oasis.opendocument.spreadsheet,
application/vnd.ms-excel,
application/vnd.oasis.opendocument.text

Video: MP4, 3GPP

Video files must have H.264 video codec and AAC audio codec.

Sticker: WEBP