LianaCMS' page list will be updated on Wednesday 23.02.2022.
The new version allows you to move pages in the page tree with the drag and drop editor, edit basic page settings for multiple pages simultaneously, and preview pages with few clicks. You can enable the page tree from the LianaCMS Pages view by clicking Enable new page tree by clicking this on the top of the page. You can easily change back to the old page tree view by clicking Enable old page tree by clicking this again on the top of the page. Each user can set their page tree view as they wish.
Read more about the new features below.

Menu settings
You can quickly preview a page or edit the info and settings of the page you have selected with the features on top of the page list. By selecting multiple pages at a time, you can delete them or edit their basic settings, such as titles, publishing dates, and search engine visibility settings simultaneously. The feature will follow as you move on the page, making it easier to manage long page lists.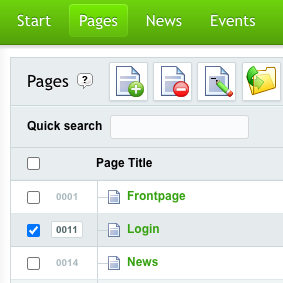 Drag and drop editor
You can move an individual page on the page list by clicking the black cross icon on the right side of the page with your mouse and dragging it to a different location. Alternatively, you can move the page with the green arrow buttons. If you move the main page, the subpages will automatically move with it.

Quick search
Quick search allows you to search pages from the page list by their name.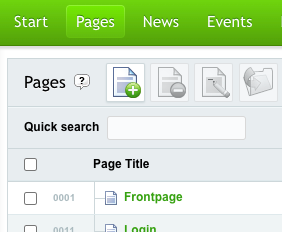 If another user is updating these features on the page list simultaneously, the other user will receive a request to update the page in order to see the newest changes.