Modify product categories in the system from category management. Create parent categories and subcategories, and decide on an order on the administrator's page as well as when listed for the online store user.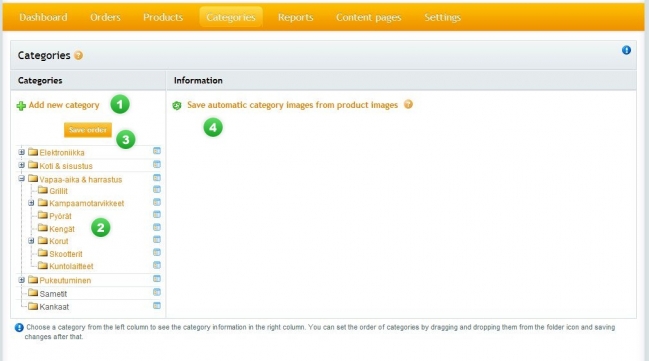 | | |
| --- | --- |
| 1 | Add new category by clicking Add new category. |
| 2 | Categories are listed as a tree structure. Expand on parents categories to display subcategories by clicking the "+" sign and correspondingly, hide them by clicking the parents category "-" sign. Drag and drop a category under another one to make it a subcategory. Similarly, drag and drop subcategories away from being indented to form separate categories. Click on a category name to modify its details. Click action icon to delete a category. When deleting a category, all products and information from it will be lost. |
| 3 | Remember to save the category order by clicking Save order after dragging and dropping various categories into a new order. |
| 4 | Images for categories can be saved automatically from product images in the categories. |
When clicking on a category name, the information will open onto the right-hand column, and can be edited. Press Save.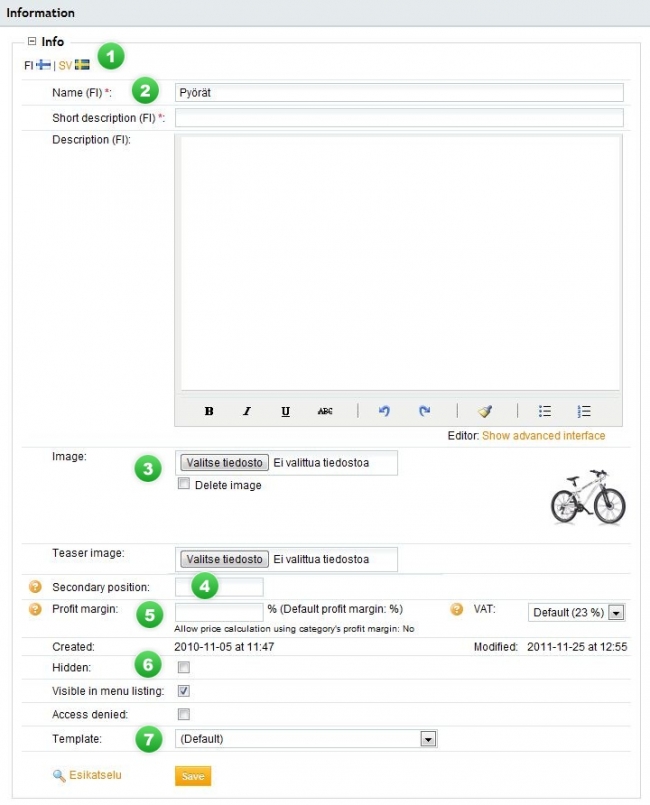 | | |
| --- | --- |
| 1 | Change the category language. Use this tool to give the category a separate name and descriptions in different languages. The language in use appears in brackets after the names of the field which are affected by the change. |
| 2 | Give the category a name and a short description, which cab be shown for example in the category list. If needed, a longer description for the category can also be given. |
| 3 | Add image and teaser image for the category. As with products, the teaser image will appear in the category list to symbolize a category, and the actual image will be displayed when the category has been selected. The use of of the images can be specified in other ways in the layout as well. Both images can be uploaded from a computer by using the Browse... option in your user interface by clicking the button. An image can be deleted by selecting Delete image. Always press Save after making any changes. |
| 4 | Define a secondary location for a category. The feature can be used, for example, to list a category in a different category list on the public site. |
| 5 | Determine the profit margin and value added tax, which the category products will use as a default. |
| 6 | Hide a category by selecting Hidden, so that it will not be visible on the online store. If a category is hidden, all the products in it will be hidden as well. |
| 7 | Determine a template for a category, which will be used when navigating to the category in the category list. |