Links are created and deleted from the editor toolbar.
---
Inserting and editing a link
A link is created by highlighting the appropriate piece of text and pressing the Insert/Edit Link button. A link is added into a picture by first clicking the picture once and then the Insert/Edit Link button.
The easiest way to edit a link is to double-click it. You can also choose the link by clicking it once and then pressing the Insert/Edit Link button.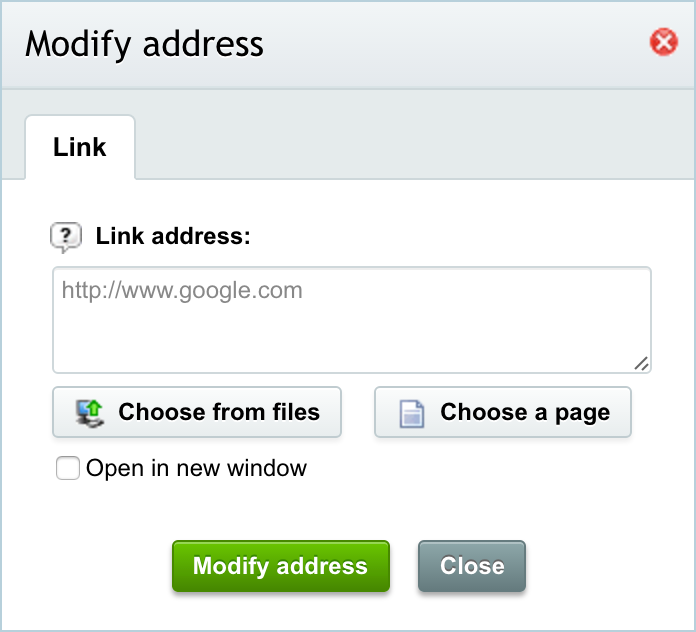 The link's address will be the whole URL address of the link, such as http://www.google.com. You can also choose a file as the target of the link (Choose from files) or an existing page on the page list (Choose a page). The link can be set to open in a new window but this is not recommended.
Inserting an email link
Inserting an email link happens the same way as inserting a normal link, except you must put the text mailto in front of the link's address. For example, mailto:support@lianatech.com
---
Deleting a link
Delete a link by clicking the link text once and then pressing the Unlink button.
---
Adding a Link onto an Anchor
Anchors are like bookmarks at a certain spot of an individual website. If you create a link and refer to an anchor link on the same page, the page will automatically jump to the spot where the anchor has been set.
Insert an anchor to the part of the text where you want the link to lead:
Paint the text with your mouse
Click the Insert anchor/Edit anchor button on the toolbar
Give a name to the anchor. Make note that umlauts, spaces or special characters cannot appear in the name.
A created anchor is displayed as a red flag icon in the editor. On the page itself the anchor is invisible and only starts to work when an actual link is directed to it.
Create a link to the part from which you want to jump to the anchor:
Paint the text with your mouse
Click the link tool and open the Anchor tab in the window
Choose the anchor you previously created from the dropdown menu
Click

add link