Text editing functions can be found on the toolbar. Hover the cursor over an action to receive further information.
---
Text editing functions
Select the text by highlighting it with the cursor and click the function that you want to use on the text. You can use many functions on the same text simultaneously, meaning the text can, for example, be both bold and underlined.
---
Header levels
You can determine header levels from the Paragraph format menu that is on the toolbar.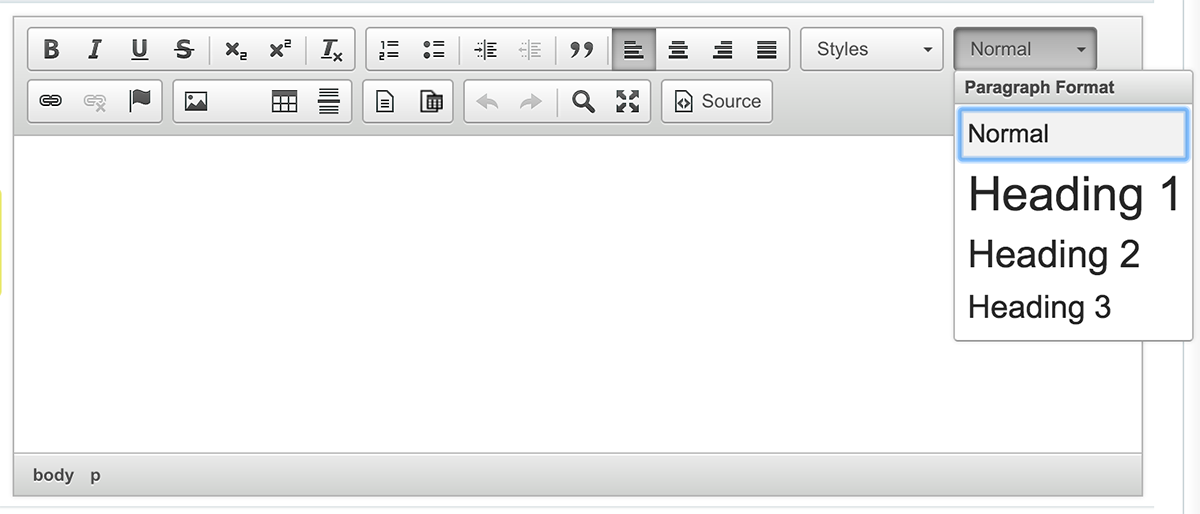 A good web site always has a heading, which uses the top-level "Heading 1". This is important in terms of search engine optimization. For a search engine, a level 1 heading is a notable factor, which describes the content of the site.
---
Lists
Two types of lists can be created in LianaCMS: numbered or bulleted.
Start creating a list by clicking the list icon for the type of list that you want.
Press shift+enter to change the row within a list point. The editor changes the row automatically if the text continues to more than one row. A new list item is created by pressing enter.
A list can also be created by highlighting the text that will be made into a list and pressing either of the list icons. Note! This action forms one paragraph into one list point. The text is divided into further points by pressing enter in front of the text that you wish to form a new point.
A list is deleted by highlighting it and pressing the List button again.
---
Text alignment
In LianaCMS the text can be aligned left, center, right or justified with the buttons that are shown in editor.
Text is always aligned to the left by default and in some page templates other choices of alignment have been blocked or they don't function. Centered content or alignment differing from the default is usually not recommended because they easily produce content that is hard to read.