You can enable cookie dialog for free on your website after the software update on Wednesday 25th of November, 2020.
With the dialog, the website end-user can influence their privacy settings by choosing the monitors they want the site to download on the user's computer.
You can start utilizing the cookie dialog from the Search engine settings page where all the general search engine settings of the site are gathered. You can access the page by choosing Settings from the main menu and then clicking Search engine settings.


Choose Analytics and tracking tab from the Search engine settings page.
The Tracking scripts section is first on the page with fields for embedding general tracking codes. If these fields contain embed codes, they will be loaded each time a user enters the site. (Excluding customized implementations in which cookie management is built-in.)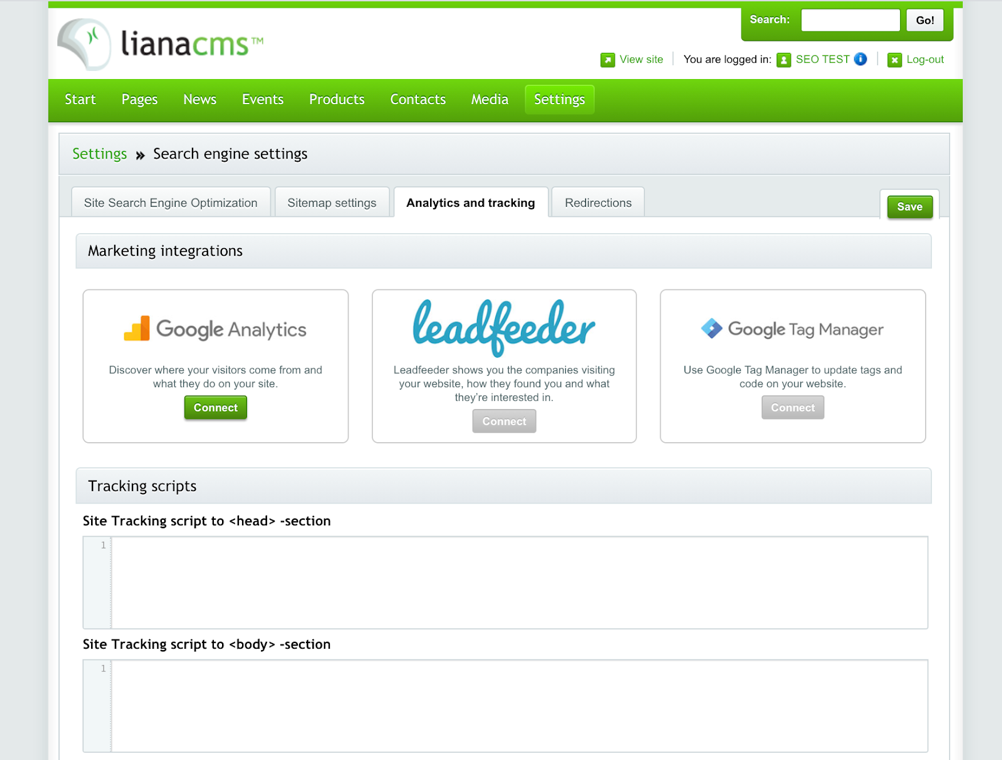 There is a new section under the Tracking script fields called Tracking Cookie Consent.
You can enable tracking cookie consent by ticking the box in Display the tracking cookie notice and ask for consent and clicking Save at the bottom.
Please note that if the script field is completely empty, the cookie dialog will not be displayed on the site.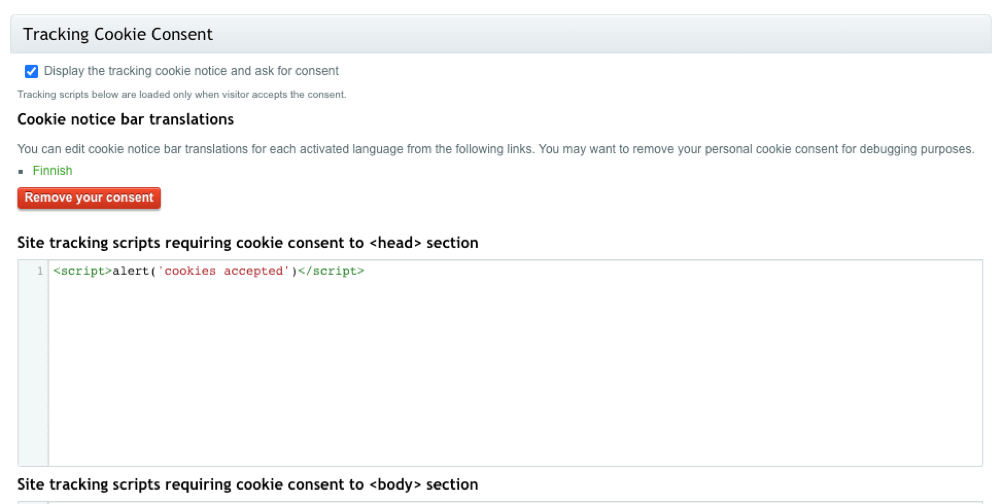 Now you can add or move from the field above to the first field's <head> section the third-party tracking scripts that are downloaded to the user's computer after they have given their consent.
If the user doesn't give their consent to all cookies, these scripts will not be downloaded.
Save the changes you've made.
On the site, the user will see this dialog by default after the changes you've made:


You can edit the texts in the pop-up window by clicking on the translation text and editing the texts on the page that opens.


The Delete cookie consents button deletes the cookie consents for that particular user. To test how cookies work, first delete any cookie consents you may have previously made.
Please note that this page as well as the setting is language-specific, so if you enable cookie management in the Finnish language version, for example, it must also be turned on separately in the other language version. The easiest way to turn it on is to change the language at the top of the site.


More elaborate cookie classification and customized cookie dialogs

If you want to classify cookies of different levels more precisely than the basic level, for example, into essential, functional and social media cookies, this can also be done with LianaCMS consent banner advanced functionality. This functionality includes implementation through Google Tag Manager, and the cookie management is then handled in Google Tag Manager. In addition, in this implementation, a customized cookie dialog on the front page and a separate management view for different levels of cookies are built. If you are interested in a custom cookie implementation, our team is happy to tell you more!