News list is a list of posts that are shown according to their category on the list.

The main view of the news list shows all those posts that belong to a certain list according to their category. You can determine the categories and other settings for the news list on the Settings tab.
---
News list settings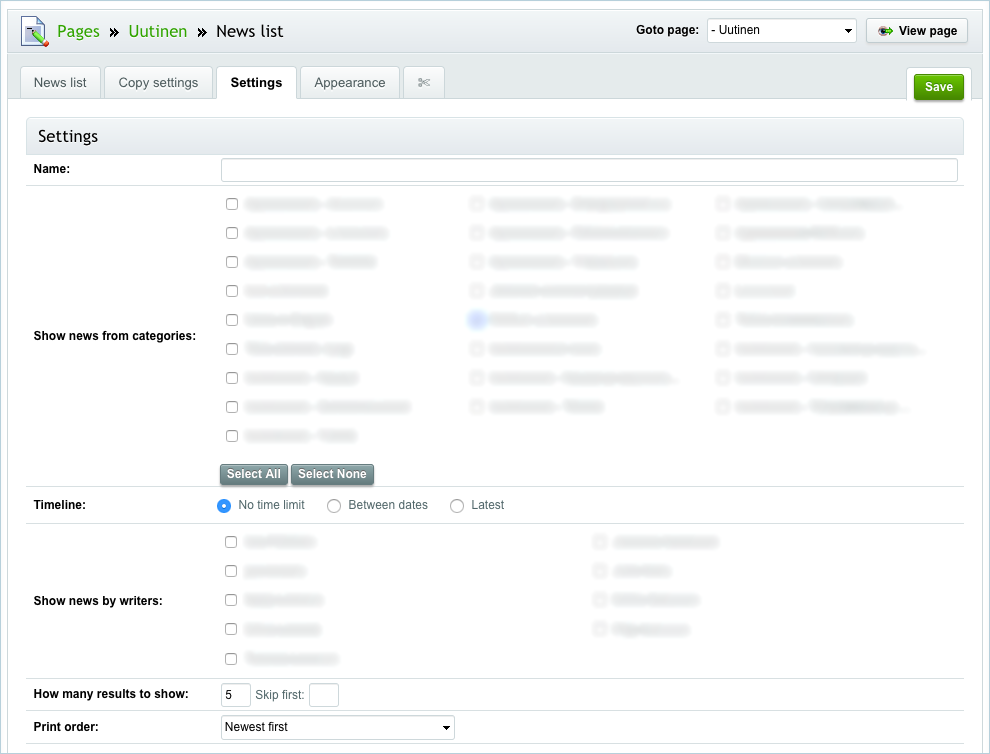 Name
Name is the identifier of a news list.
Show news from categories
Here you can choose those categories of the news that are shown on the list. At least one category must be chosen so that news are displayed on the list.
Show news from a timeline
The module shows all news by default. Displaying the news can be limited, however, according to date or sequenced to show only the news that were written during the past week or month.
Show news by writers
If news are written by multiple people, the news list can be set to show only the posts by a certain writer.
How many results to show
This section allows you to choose how many posts the module shows on the page by default. The module can also be set to pass x amount of the first news.
Print order
The news are shown in chronological order by default. The order can, however, be changed according to modifying time or to random.
---
Advanced settings
The advanced settings are modified when the site is built and they don't need to be modified during daily maintenance.

Create links
This setting determines whether links are created of the piece of news, links are created by default.
News link to page
This setting determines what page the news list links lead to. The default is "This page" and this setting does not need to be changed. This setting is page-specific.
News archive
This setting determines whether yearly and/or monthly archive pages are created of the news list. Archive pages are not created by default.
Advanced settings
This setting determines whether feeds are created of the news list and is only information on an opened piece of news displayed.
---
Filtering

By tags
The content of the news list can be filtered by tags.
Opened piece of news tags
The news can also be filtered by the tags of an opened piece of news. This way similar news can be listed on display.
Others
The news list can also be filtered by matching categories, by demanding all listed categories or by property.
---
Commenting settings
Anonymous and logged-in comments
You can choose whether comments are published instantly or only after approving them. Anonymous comments require approval before publishing by default.
Send email notification on new comments
If you want an email notification on comments, you need to give an admin email address here. Multiple email addresses can be given.
Commenting
In the additional settings for commenting you can determine if anti-spam features are in use (on by default), if nicknames are allowed without signing in and determine the comment form position.
Comment print order
Comment print order can be set to either "Oldest first" or "Newest first".