You can create Google Ads text and Display ads, which are targeted precisely to the audiences you use and select in automations. The ads are created in Google Ads, but you can view the results of your ad campaigns in LianaAutomation.
Create Google audiences based on automation segments easily on the Audiences tab. Google goes through the email addresses of the segment and aims to associate them with the browser users it identifies.
Please notice that processing and updating the data might take up to 34 hours from Google before the audience can be used for ad campaigns. Using segments as Google Ads audiences requires compliance with Google's Customer Match Policy. Different campaign types also have their restrictions on, for example, audience size. The best way to view these restrictions is using the Google Ads dashboard, which tells you which campaigns you can use for each audience.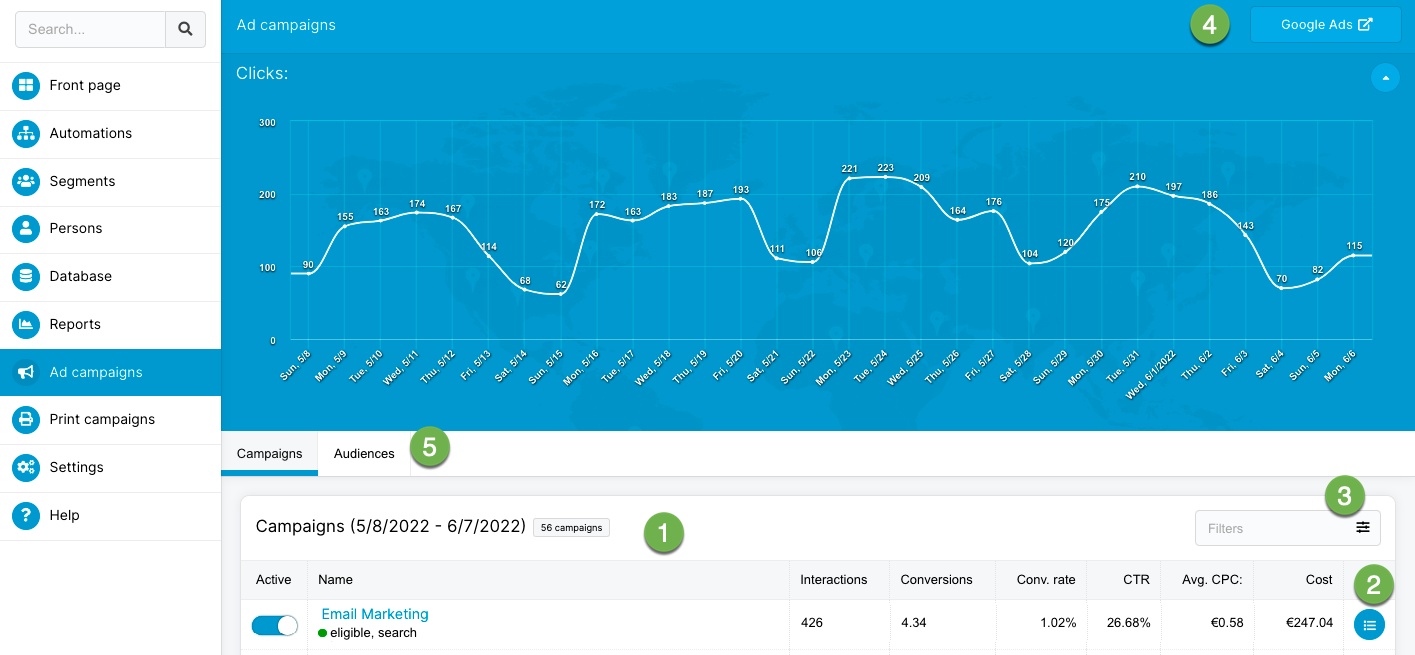 1

Here you can see all campaigns created and also related information, such as conversion rates, average CPS, and the amount of money spent.

2

Use the campaign action icon to change campaign activity mode, move to settings, or remove the campaign.

3

Filter visible campaigns based on activity and/or campaign type.

4

Use the link to go directly to your Google Ads account.

5

You can create Google audiences based on automation segments from the

Audiences

tab.
Creating audiences
Start creating Google audiences based on automation segments from the Audiences tab.

| | |
| --- | --- |
| 1 | The page shows you all customer-based audiences of Google Ads and their information. |
| 2 | You can unlink a segment or the entire audience from the action menu. |
| 3 | Use plus icon to add a new audience. |

Click the plus icon to add a new audience. In the window that opens, select the automation segment you want to link to the audience and give the audience a name. Finally, click the Add Audience button.

Search (search engine advertising)
Search engine ads are displayed with Google searches. When users search content from Google, the the ads defined in your Search campaign are shown to people who use your keywords (search terms).
Display (banner advertising)
Banner ads are shown to your target audience in the Google network websites and applications (over 2 million different sites). The sites that display your ad can be targeted according to the keywords you attach to your campaign.
Gmail
Gmail ads are displayed in the Gmail email client as the title suggests.