Modifying the templates requires advanced technical know-how about how different email clients function. Making changes to the source code easily breaks the functionality of the templates. We charge by our hourly rates for possible repairs. The safest and easiest way is to ask for changes directly from us. Contact our support team.
The templates mainly utilize the so-called Drag and Drop solution. The elements have been separated as individual blocks that can be dragged in the newsletter template and dropped where you wish them to be situated.
Editing DnD template
See the preview or modify the template from the HTML template tab.
| | |
| --- | --- |
| 1 | You can modify the template source code from the Template tab on the right. |
| 2 | The template is in HTML format. Enter the HTML source code into this field. The source code should only include the code for the actual content, not elements such as head, style and body tags. Further instructions on creating a template can be found from the Newsletter planning guide. |
| 3 | Send the template preview to an email address by clicking the Send preview link. |
| 4 | Insert the template styles into the CSS field. A style tag does not need to be added into the field. Further instructions on template style settings can be found from the Newsletter planning guide. |
| 5 | Create new block tab lets you to add a new block to the template. |
| 6 | Specify the background and block border colors in these two fields. |
| 7 | You can upload a background image to the letter with the Background image button. |
| 8 | Load a new template to the letter. This overrides the old template. It is possible to add two different kinds of templates. Fixed template has been chosen by default. Hybrid template is the alternative. The source codes and element implementation of these templates differ. |

Finally press Save.
Create a Plaintext template
Edit the template in text format from the Plain tab.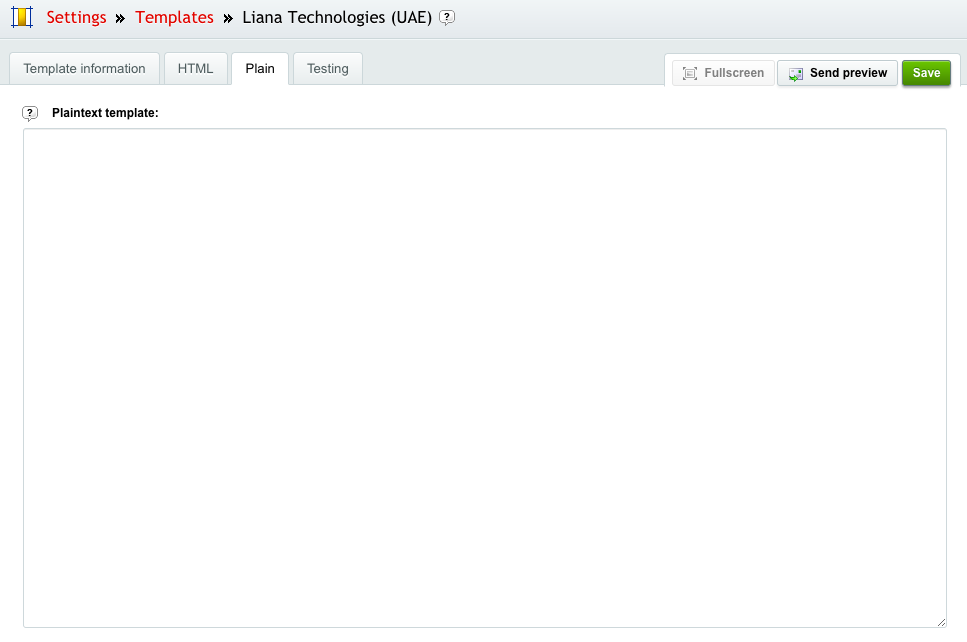 The default content can be written in a plain text format. The content field can be left blank.
Press Save.