You can use LianaPress.com on a browser. All you need is your username and password. Login to the LianaPress.com admin site from www.lianapress.com. Login button is on the upper right corner of the page.

After logging in, you can access your own account by clicking the Admin button that appeared on the page's blue toolbar.

We publish news on recent updates and information about the service features on the admin front page. You can manage your account from the user menu that is on the right and there you can also see your unfinished press release drafts.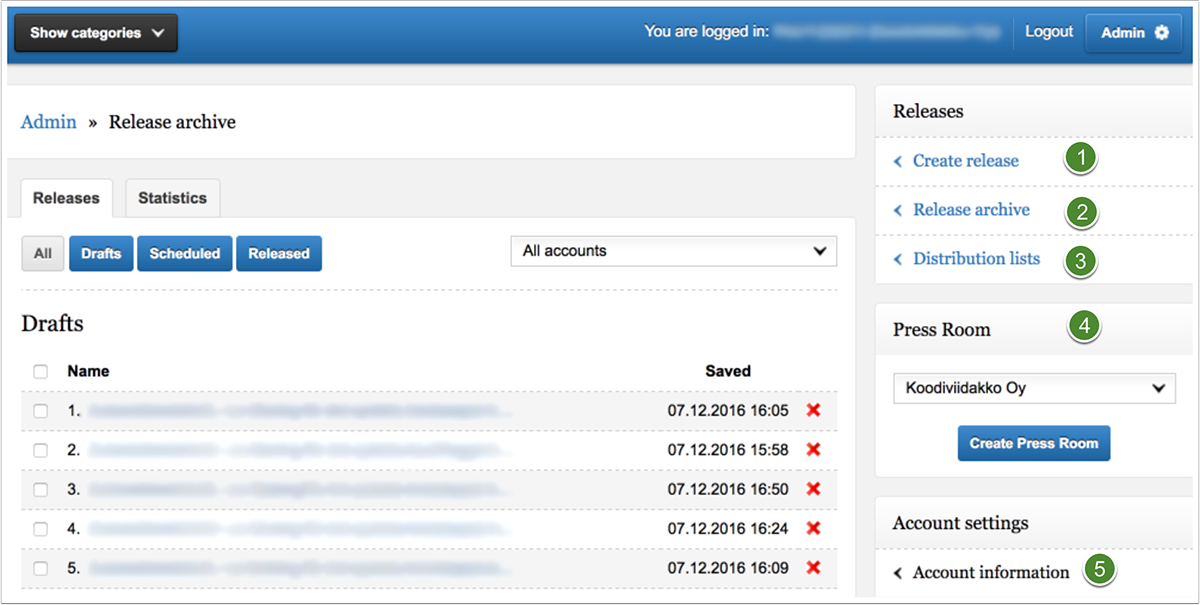 | | |
| --- | --- |
| 1 | By clicking Create release you can create and send press releases. |
| 2 | In the Release archive you can view already published press releases, as well as edit saved drafts and preset press releases. If you have the Statistics additional feature, you get to examine the more specific details of your releases, like opening and clicking percentages, on the Release archive page's Statistics tab. |
| 3 | In Distribution lists you can create new distribution lists to your releases, either by utilizing LianaPress' media database or by adding your own lists to the service from an Excel file, for example. You can also edit the lists you have previously created, as well as delete lists that have become obsolete. |
| 4 | In the Press room section you can view your mediabank or banks, if you have several. You can also view the press releases you've sent, import new images and files or edit old ones and change the settings of your mediabank. From Settings you'll be able to change your company's introduction text, for instance, and add contact details to your mediabank. |
| 5 | From Account settings you can edit your account settings, such as your password. You can also edit the press release publisher's email address for the delivery, reporting and previewing of the release. |

If you have forgotten your password, you can order it to your email by clicking "Forgot your password?" link in the login window. If, for some reason, the password recovery is unsuccessful, contact LianaPress.com support by email at support@lianapress.com.