With LianaMailer's new AI Assistant you can create content faster and more efficiently. The feature is built into LianaMailer's Template editor, which makes it easy to create AI-generated content directly within the tool. The beta version of the tool is available for free.
The update will be launched to all customers automatically on the 29th of April. The update doesn't require any actions from you.
AI Assistant
In the Template editor you can generate new content with the help of AI and add it to your paragraph. Simply type in what kind of content you need, and it'll create the copy text you can use in your newsletter.

The AI assistant is available when you select the Paragraph element. The Paragraph element can be used for text sections.
Click on the Paragraph element in the newsletter and you will get the element's properties on the right side. The AI assistant can be found behind the new "Write with AI" button.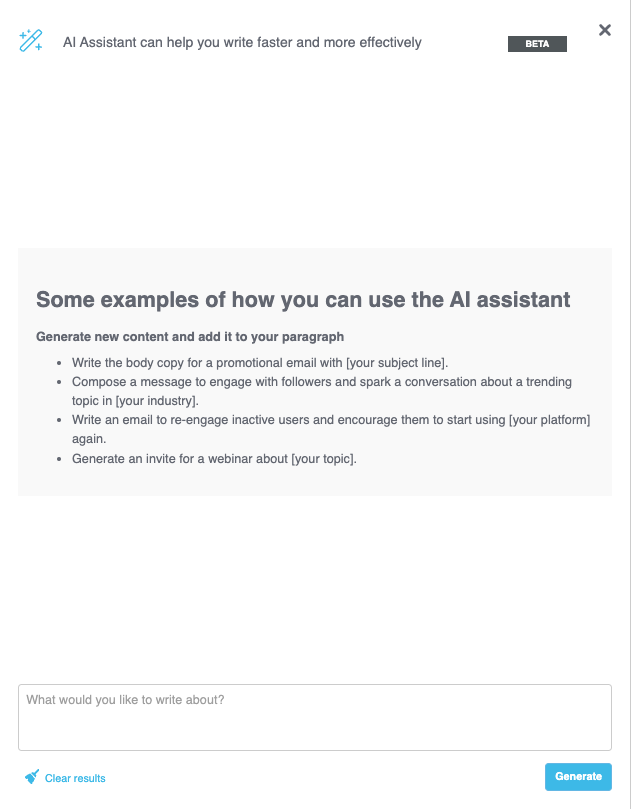 After pressing the 'Write with AI' button, a view opens up where you can utilize the AI assistant.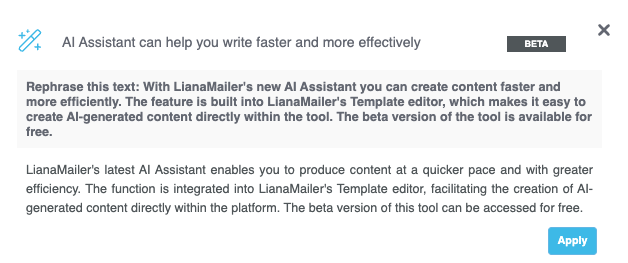 With the 'Apply' button, you can transfer the text directly to the newsletter in the paragraph you are editing. You can continue the conversation with the AI assistant and improve its response.

If you have any questions about LianaMailer, please contact our support or specialists.