LianaMonitor will be updated on Wednesday, April 26th, in the late afternoon and the updates will be automatically visible to everyone. The update will cause a brief service interruption.
The update includes:
More comprehensive quick search, also from online media sources. Search settings will be updated to match those in Social Media Quick Search
Several updates to the Press Releases section

In the All Publishers view, the ability to choose between the number of press releases or hits in the chart. This affects customers who have multiple publisher profiles
Publisher-specific hit and analysis views
Charts can be downloaded in PDF, Excel, or various image formats (.jpeg, .png, .svg)

Widgets from press releases will be added to the Desktops section. You can add a list, number, or chart widget based on press releases
Bug fixes

Pagination of collections has been fixed
The Press Release Analysis view shows correctly a 12-month view
Quick Search

You can use more versatile search terms, just like in Social Media Quick Search. The new search form helps you find hits more accurately and precisely with quick search. The search form allows for the use of multiple words in quick search, and words that are not allowed can also be added. The new quick search form corresponds to the search logic of the monitoring views.
Note! Quick search does not support proximity operator, so search terms cannot be combined using dots, for example liana.....communications does not work in quick search.
You can specify the areas (sources) from which hits are searched. Different areas are selectable if you have access to different country sources. You can also change the time period you want to view.
Read more how to use Quick Search.
Press releases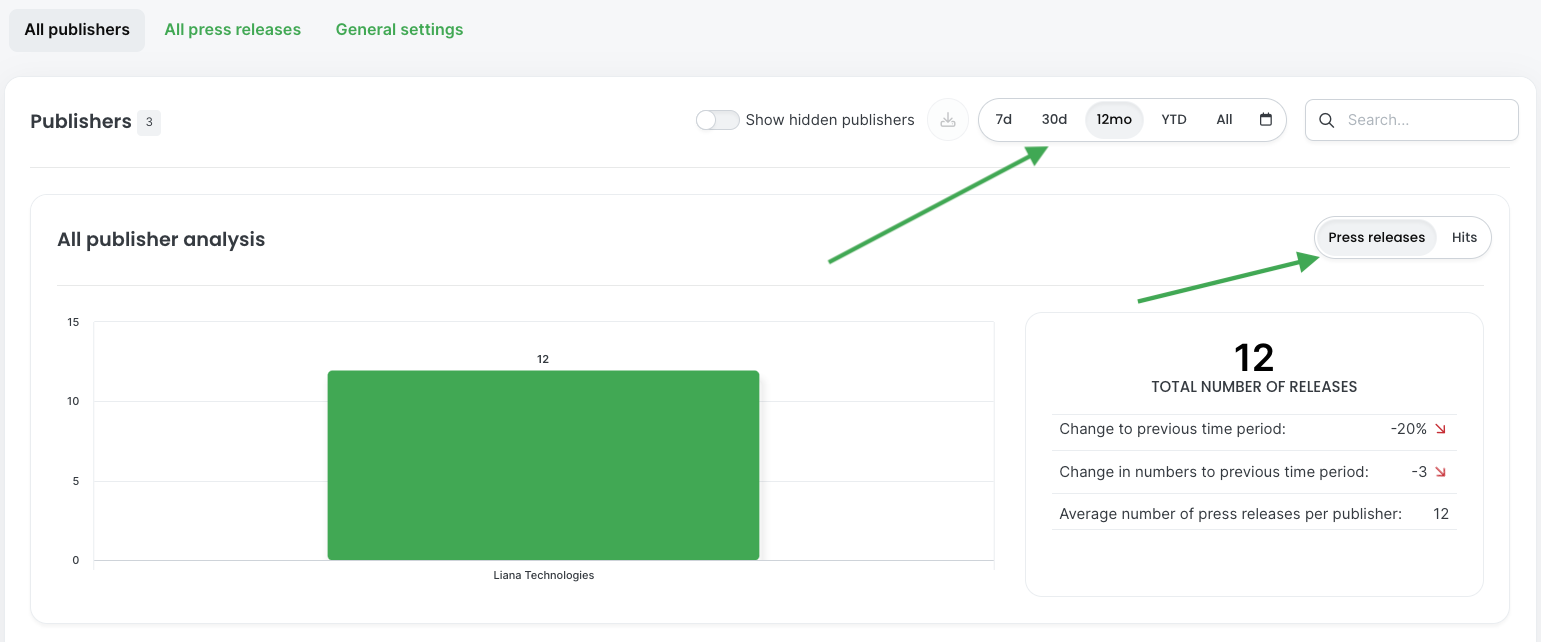 When using multiple publisher profiles in LianaPress, you can choose between Press releases or Hits for the chart. The time period being examined can also be changed.

Publisher-specific views for hits and analysis.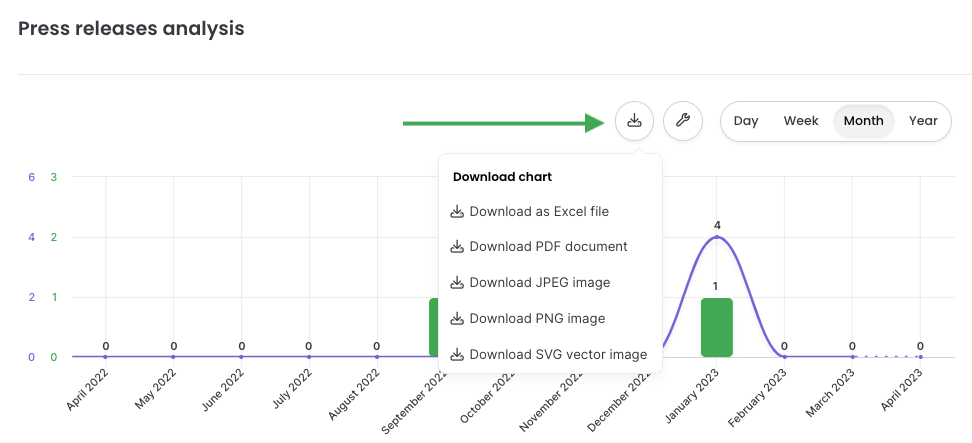 Charts are now downloadable in different file formats.
Dashboards
The Dashboards section will now include the ability to add a widget based on press releases. You can add a chart, list, or number format widget based on press releases.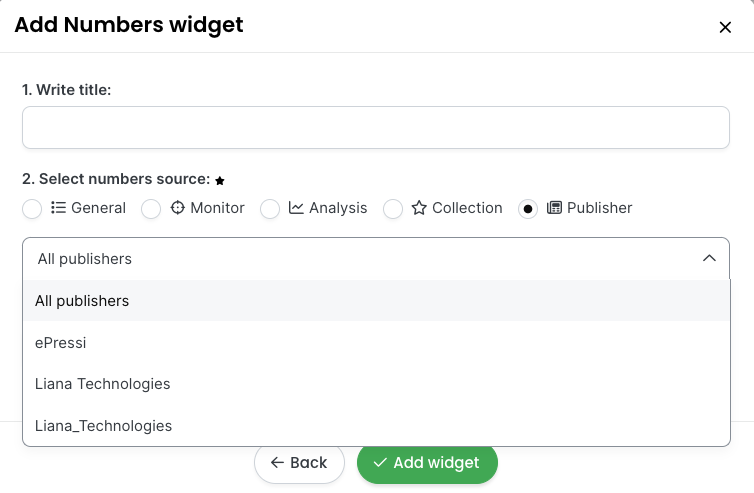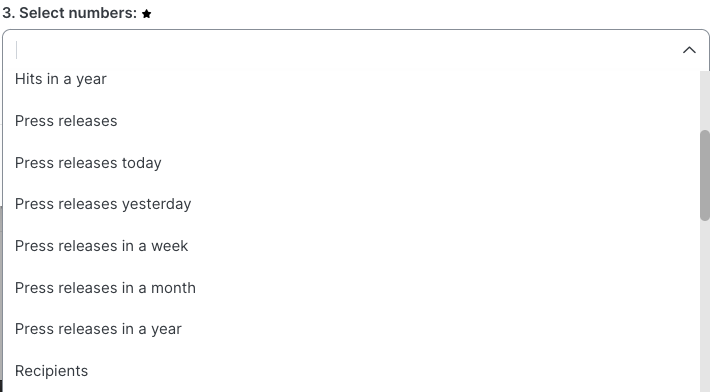 You can choose the source publisher for the number widget you want. In section 3, you can select one or more numbers to add to the widget.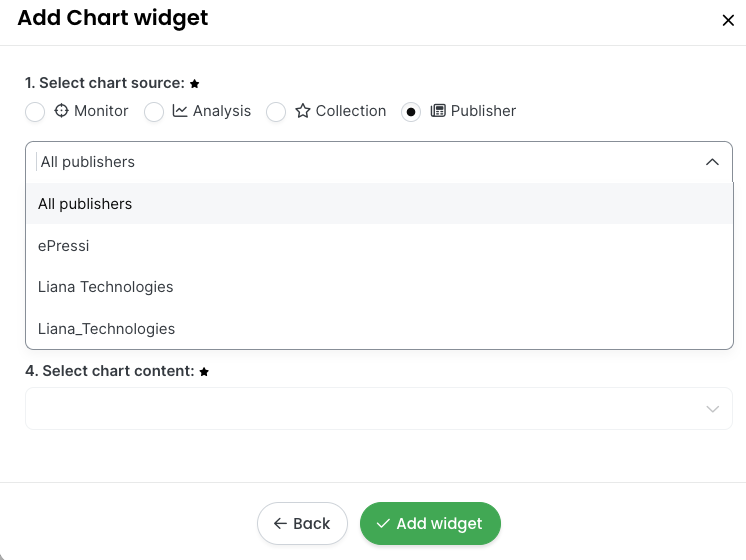 You can choose the publisher and the content of the chart widget.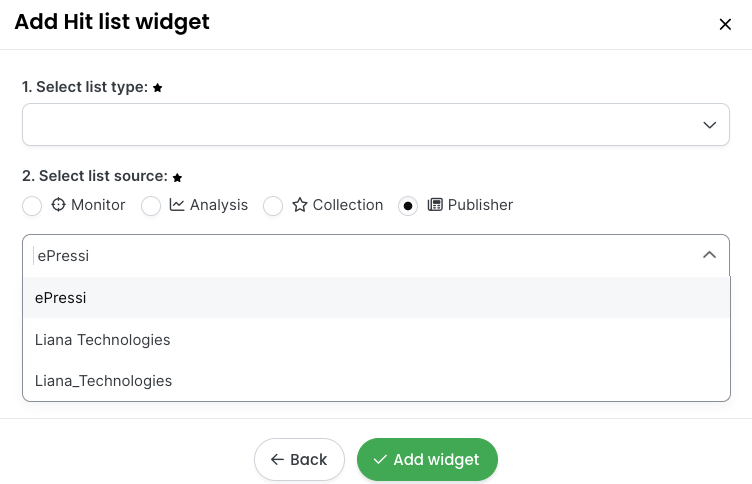 The widget can also be added in list format.
If you want more information about the update, please contact your contact person or our experts.